Marbella is a city in the Costa del Sol region of southern Spain. It has an image of an expensive and prestigious place for celebreties, businessmen and politicians who love to relax here. Let's see how the "elite resort" status affects local real estate and lifestyle. Is everything here insanely expensive? Says the expert of the Spanish real estate agency Cadespa Luxury Real Estate Oleg Bakalyuk.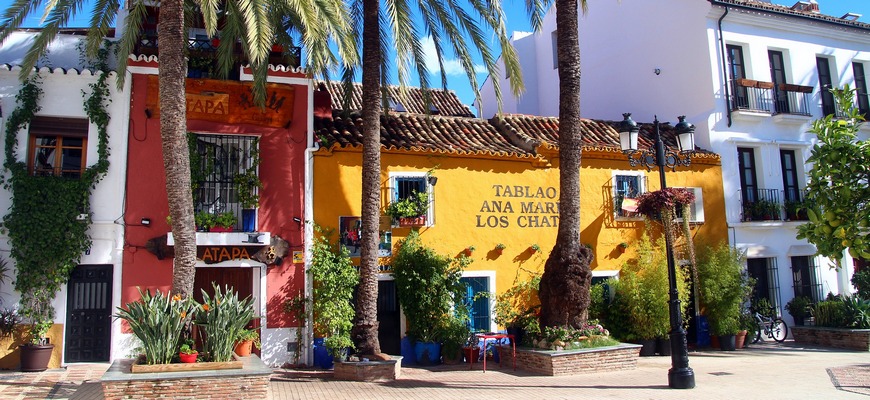 Popularized by the Brits
The history of the city of Marbella began in the 1960s, when wealthy British tourists came here. It was they who began to build up the coastline with villas or, more recently, cottages.
They did not just promoted the resort, but also stayed there for a long time. To this day the British upper class still chooses Marbella as a place to live and relax. Together with them, Belgians and Dutch visit the Spanish coast. The shares of Russians, at least before the pandemic, was about 7% (they were in the Top-10 buyers of local real estate).
The location has become popular among wealthy foreigners for a reason. Its main advantage is a unique mild climate: the temperature difference during the year is minimal, about 10C-15C. This is a zone with constant pressure, where in the summer season there is almost no rain, and in winter the air temperature is kept at the level of +15C to +20C.
A Small Territory With Everything Essential
In addition to the climate, Marbella is valued for its compact size and high-quality infrastructure. For instance, to get to know Catalonia, you need to go around it for two hundred kilometers in different directions. Here the distance from Marbella to Estepona is only 20 km along the sea.
Despite its size, Marbella has everything from food chains (Spanish and foreign) to international schools and colleges. And this is one of the main reasons why foreigners move here with their families.
After graduating from local educational institutions (English, not Spanish), you can safely enter any prestigious European or American University.
In addition, Marbella has a well-developed entertainment and services sector. There are world-class hotels and restaurants where big celebreties, businessmen and politicians rest. For example, in 2010, Michelle Obama spent her summer vacation here.
Not Only for the Rich
Marbella is deffinitely not a place exclusively for the extremely wealthy. Real estate is expensive here and only in exclusive zones.
For example, the urbanisation of La Zagaleta is aimed mainly at world–class businessmen, highly paid artists and even people from Royal families (for example, the Swedish king).
Buying a house in such a place is very expensive (the entrance threshold is from €3 million) and also difficult. Club members must agree on the settlement of newcomers.
However, on the coast in this area there are also more compounds on budget. If you drive from Marbella for ten minutes towards Malaga or beyond Estepona, you can find properties for the middle class. Apartments there start at €250,000-€300,000.
Other aspects of life, such as restaurants, shops (especially chain stores) and other entertainment cost the same throughout Spain. So in this expensive location ordinary people also live comfortably. The main thing is to choose the right urbanisation.
Neighborhoods. Where to Live?
The most elite urbanizations in this area are already mentioned La Zagaleta, as well as Sierra Blanca. Both locations have lots of luxury villas with large private plots and closed residential complexes. Such territories are very seriously protected, there are several security posts everywhere.
La Zagaleta is located six kilometers away from the sea, surrounded by cork and pine forests. Sierra Blanca is located closer to the center of Marbella, just two kilometers away.
Important to note that the distance from the sea is not a disadvantage, but a need. Buyers of properties in such locations prefer to be away from the city bustle and tourists. They want to live apart from others.
Budget-friendly options can be purchased in the nearby towns of Mijas Costa, Fuengirola or Benalmadena. This is also Costa del Sol, but it is not as green as in Marbella, the climate isn't that mild. Also, these towns do not have luxury hotels and popular restaurants.
As for development in neighboring locations, these are typical five-, seven - or nine-story buildings in the city. All villas are on the distance. In high-rise buildings, commercial establishments, company offices, banks, cafes and restaurants are traditionally located on the first floors.
The necessary infrastructure is also available here. In addition, there are various types of entertainment that are popular among residents of the entire region. A good example is the Fuengirola zoo.
Wide Range of Realty
You can consider the region of Marbella with about €300,000-€400,000 thousand in your pocket. For this money, you will find an apartment on the "New Golden Mile" (an area 19 km from the East of Estepona along the Costa del Sol to San Pedro de Alcantara).
For this amount you likely get a 70-80-meter two-bedroom apartment in the residential complex on the second or third line from the sea. Moreover, this complex will be of a good quality, often with security, a gardener and necessarily swimming pools both indoor and outdoor. The property is also likely to have a garden with tropical vegetation.
In general, the quality of real estate in this area is usually very good. Marble floors, modern kitchen appliances. The fact is that these are not old houses like those that are sold in Barcelona. Most of the properties in Marbella were built in the 2000s. And over the past twenty years, there are no complaints about the quality of these buildings.
But on the "Golden Mile" prices for similar properties starts from €500,000. And it is also the second or fourth line from the sea.
This is the secondary market. There are almost no places for new development in Marbella and the surrounding area, all liquid locations, especially on the coast, have been built up for a long time. All the few remaining plots that are now being developed by local developers are given either for multi-apartment residential complexes or for townhouses.
The cost of small properties in such complexes starts from €800,000-€900,000. If we consider an apartment from 120 sq.m, and a villa from 200 sq.m, the initial price will be one and a half to two times higher.
It is more reasonable to go to the right or left of the "Golden Mile", because in new buildings there the approach to pricing is more democratic. So, double apartments closer to the sea can be found at a price of €350,000-€400,000. If you go further into the mountains, the final figure will be 10-15% lower.
It is clear that for people who buy housing here, the distance from the water for several kilometers is not critical, because most people move by car.
Consequences of the Pandemic: Discounts of 10-15%
At the moment, we can get discounts of 10-15% both from the developer and from the owner. This is not much, but it cannot be higher than that, because before the pandemic the real estate market in Marbella was booming.
Despite the fact that this resort is one of the most expensive in Spain (along with Barcelona and the suburbs, Costa Brava and Mallorca), there is always demand. There are several reasons, one of them is the desire to give children the opportunity to study in international schools and colleges and, thus, open the way to prestigious universities. I can assume that this has become even more relevant in the current situation.
Before the pandemic all sectors had high sales. In the summer, activity decreased, but buyers who had previously made a deposit still came and signed the final documents.
Now, obviously, the second wave is beginning, and in this regard, some people are ready to make concessions. But only those who need to withdraw money urgently. I would not recommend counting on mass discounts.
As for trends, here people are moving to the suburbs. This is very noticeable in Catalonia, residents of cities are moving outside of their borders, looking for homes on the coast to protect themselves and their loved ones from mass gatherings.