There are dozens of cities in Spain where the average cost of a house does not exceed €500 per square meter, including in the provinces of Murcia, Valencia, and Alicante, which are popular with foreigners. Where to find affordable housing? Find out today about five cheap and picturesque locations.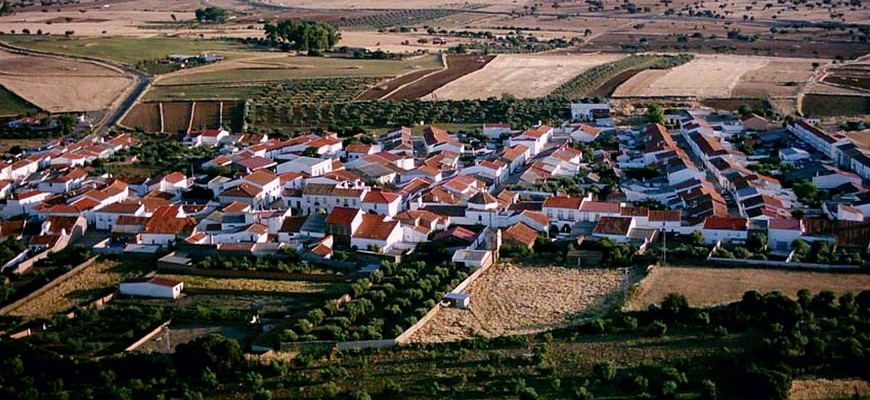 Alcaudete de la Jara, Toledo Province
Average property price: €349 per sq. m.
The authentic town of Alcaudete de la Jara, which is home to 2 thousand people, is located in Central Spain. It is spread out on a fertile plain, surrounded by hills. The temperatures here are very mild throughout the year.
The town is relatively close to the megacities of Spain. Madrid is an hour and a half away, Toledo is an hour away.
There are several shops and supermarkets, schools, a bank, post office, medical center, restaurants, and cafes – everything you need for everyday life.
There are several shops and supermarkets, schools, a bank, post office, medical center, restaurants, and cafes – everything you need for everyday life.
The Torreon Tower and the house adjacent to it are the oldest buildings and the city symbol. According to a legend, there had been a residence of an aristocratic family. Such estates were common in the XI–XIII centuries and led to the emergence of many settlements, including Alcaudete de la Jara.
The Plaza de las Regions de España with the town whole in the center of the city. Nearby are old manors and a parish church – a late Gothic cathedral of the XVI century. In short, the town is beautiful.
One of the points of attraction is a place known as Molino Riscal, with the remains of an old watermill. It is nice to relax and swim here in the summer months. The old mill on the Gevalo banks and its surroundings are popular with tourists wanting to rest.
According to the Spanish portal Idealista, this unusual town in the province of Toledo turned out to be the cheapest place to buy a home in Spain. In Alcaudete de la Jara, you can find a spacious apartment for only € 12-15 thousand, but objects for this price, of course, will require repairs.
Fuente Obejuna, Cordoba
Average property price: €352 per sq. m.
Fuente Obejuna with 5,000 residents is considered one of the oldest towns in Andalusia. It was inhabited by the ancient Romans, who called the place Font Mellaria, which means "source of honey". Later, the city became known as Fuente Abejuna because of the high quality of honey produced here.
The town is just over an hour's drive from the popular historical point of Cordoba, which is also a major educational center and transport interchange.
However, this small town is famous in itself. The action of Lope de Vega's famous play "Fuente Ovehuna" took place here, which tells about the uprising of ordinary people against the tyranny of a powerful commander.
Fuente Obejuna is known as the "modernist jewel of Cordoba" thanks to the beautiful Casa Cardona Palace, which proudly towers over the city. It now has now a tourist office and a municipal historical museum.
There are schools, a kindergarten, a library, a sports center, many shops, cafes, and restaurants – everything for a comfortable life. Festivals are held in the local theater.
The town surroundings will be of interest to lovers of archeology: traces of ancient civilizations have been preserved here, for example, the old Roman mining town. Fuente Obejuna will also appeal to lovers of rural tourism: many come here for hiking, cycling, or hunting.
The cheapest properties for sale in the city now are 150-meter chalets with three or four bedrooms. You will need € 20,000 to buy, but you will still have to make repairs.
Puebla Larga, Valencia
Average property price: €456 per sq. m.
Puebla Larga, with a population of 4,500 people, is located on a hilly plain near Valencia, a major resort as well as the scientific and cultural center of Spain.
There are excellent transport links due to the railway and several highways. You can get from Valencia in half an hour by car or train, which runs every 20 minutes.
The authentic town is rich in architectural monuments that remind us of the historical heritage. Now the locals live mainly at the expense of agriculture (local oranges are especially famous) and the service sector.
The St. Peter's Market building is located in the city center. Every Friday, a street fair takes place on the square, where a variety of goods and products – a paradise for connoisseurs of Spanish gastronomy.
There are public and private schools, a medical center, a hospital, pharmacies, banks, restaurants, and shops in Puebla Larga. We suggest you take a walk around the city with the help of a virtual tour.
The cheapest real estate offer in Puebla Larga is a 115-meter apartment in an old house for €23,600.
Bulhas, Murcia
Average property price: €462 per sq. m.
Bulhas is located 53 km from the provincial capital of Murcia, in the valley of the Mula River. 11,500 people live here.
Three major cities of Murcia, Alicante, and Cartagena are within an hour by car. Nearby seaside resorts and beaches can also be reached quickly – in just over an hour.
There is all the infrastructure for life – from pharmacies and shops to museums and restaurants.
The city mainly lives off agriculture: almonds, apricots, and olives. And the region is also famous for the production of wines.
Famous for its picturesque landscapes with a waterfall and a lagoon, this place is suitable for nature lovers and natural products. The historical heritage of the city is also rich: the ruins of the castle, the old houses of the local aristocracy…
The locals have a cheerful disposition and celebrate holidays together, and hold carnivals and festivals. And on the old square in the city center, every first Sunday of the month, the fair "El-Zakatin" is held, where you can buy the products of local farmers.
Real estate here is quite inexpensive. For example, now an 80-meter two-bedroom apartment is for sale in Bulyas, for which they are asking for €17,000.
Algenia, Alicante
Average property price: €478 per sq. m.
The tiny town is on a plateau, with the height of about 600 meters above sea level. About 1,300 people live here. Alicante is 51 km away and can be reached by bus in an hour. It takes a little longer to get to Murcia and the international airport.
It is a typical agricultural town engaged in the cultivation of grapes and almonds. As in the rest of the region, good wines are produced here from Monastrell grapes. Local quarries produce marble, which is the engine of the economy of Algenia.
From the infrastructure for living, there are shops, a pharmacy, restaurants, a school, and a cultural center.
The only notable monument is the Church of San Jose, built in 1738 in Romanesque style, with two twin towers added in the XIX century.
In general, this is a great opportunity to purchase budget housing and settle near Alicante. For example, for €25,000, you can buy a 100-meter apartment with three bedrooms here.
Sources: 1. Spain Property Guides, 2. Alcaudete de la Jara official website, 3. Fuente Obejuna official website, 4. La Pobla Llarga official website, 5. Bullas tourism portal, 6. Alguena official website, 7. Idealista