Salaries in Turkey, when compared to many other regions eastern Europe, are slightly higher, and the cost of living, on the contrary, is low. There is a lovely climate, high-quality products, affordable housing. And, what is most important, there are many vacancies for foreigners, and not only in the tourism sector. It is not difficult to get a job in Turkey, even knowledge of the local language is not required. Detailed instructions are in front of you - save to bookmarks.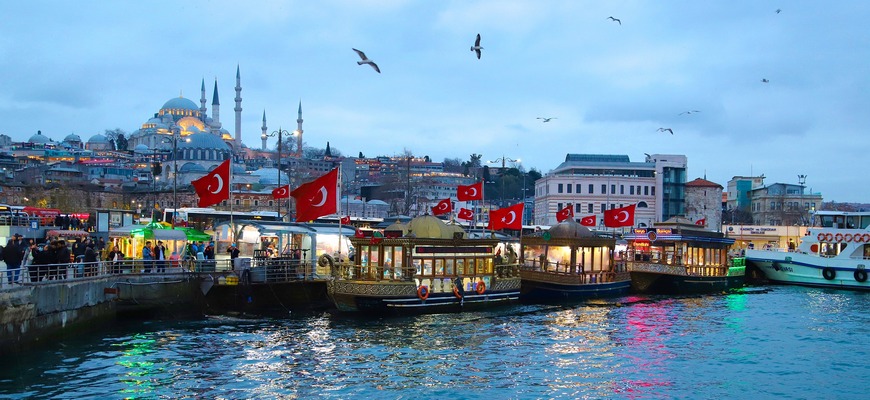 In 2020, the Turkish economy is not going quite well. The local currency rate is unstable, inflation is about 12% per year. Nevertheless, the country is developing. According to the results of the first quarter of 2020, Turkey's GDP had increased by 4.5% - the growth exceeds the indicators of most European countries.
According to statistics, there is a high level of unemployment - 10-14% of the employable population. But we must understand that these figures are largely due to the cultural peculiarities of the country. For example, there are only a number of  women who are employed in Turkey, simply because many of them prefer to be housewives  rather than go to work.
In any case, foreigners rarely compete with locals for vacancies - they are employed in other areas.
Are We Needed in Turkey?
A great advantage of working in the country is that there is no need to obtain a visa in case of a seasonal stay. For example, if you decide to work as an animator in a hotel for 3 months, combining such activity with vacation, you are welcome to do it without any documents.
Turkey is a visa-free for a numerous amount of countries.
The main labour market for foreigners  in Turkey is the former USSR and neighbouring countries, but there are vacancies for others too. 
The most demanded are seasonal workers - animators, guides, dancers, models, English teachers for the summer. In addition, in Turkey there are many vacancies for nannies and nurses, waiters and waitresses, housemaids, qualified nurses, tailors, hairdressers on the corresponding web sites. Due to the rapid development of the housing market, the country is in need of builders, engineers and project designers. Not to mention highly qualified specialists: doctors, teachers, IT workers.
How to find a job in Turkey for a foreigner?
The easiest way to search is to contact the services of specialized agencies. But there are many "buts" here. First of all, the services of such companies will cost you  about $ 200-250. Information about the organization has to be thoroughly checked, because there is a lot of fraud  on the market in this area.
And you should never agree to unofficial employment - Turkish authorities are carefully monitoring this moment, illegal immigrants are seriously punished, while official employees are provided with social guarantees and protection.
The best choice is to seek recommendations from friends and acquaintances who already live in Turkey. If there are none, the first resource to be explored is the Turkish employment bureau. Here you can find up-to-date information about the local labor market, as well as register for a job search, explore educational opportunities, and consult on starting a business.
Websites for Finding Jobs and Vacancies in Turkey
Before monitoring specialized resources, you should visit website of ​​​T​he Investment Office of the Presidency of the Republic of Turkey. Here you can find important information for immigrants that will help you find a job in the country, you can also find out the details of obtaining a residence permit and work permit.
You can also refer to unofficial, but reputable job-search web-sites:
Do not forget to register on LinkedIn - there you can search for jobs in international companies with offices in Turkey.
If you are interested in the field of tourism, pay attention to the sites of major tour operators. A few months before high season starts, you can often see offers for employees who will interact with international tourists.
Work Experience
Turkey is one of the countries with the AIESEC internship program, which provides foreigners with the opportunity to gain work experience in another part of the world. There are about 4,500 places provided annually, which can be occupied by specialists and students under the age of 27. Often, exchanges are organized between employees of different companies.
To participate in the internship, you need to register on the web site and fill out an application form. Selected applicants will receive an invitation to take an English-speaking  test and try themselves in  business games. If you have passed all the "tests"successfully, an agreement is concluded with you - and you can start preparing a list of documents for participation in the program:
photos;
copies of passport pages;
an invitation for an internship and a certificate from the AIESEC unit in your country;
consular fee receipt in the amount of $50.
 Requirements for Foreign Employees
Knowledge of the language.

You need to be fluent in Turkish only if you get a job in a company whose activities are focused on local residents. Such situations are rare for foreigners, therefore, knowledge of English is often more than enough. If we are talking about temporary work at resorts (staff, dancers, hairdressers, etc.), then it is generally not necessary to speak a foreign language. Exceptions are, perhaps, animators and guides. Good knowledge of English in their case significantly increases the salary, as they can work in prestigious hotels with visitors from different countries.

Confirmation of diploma.

Applies only to highly qualified specialists. The most difficult procedure in this case is for the doctor (in fact, as in most other countries). The employer will need not only a confirmed diploma and experience, but also  passing a professional exam. But in return -  earnings on a par with Turkish specialists.
Aspects of working in Turkey
When you apply for a job in the country with official permission from the local authorities, you are subject to all Turkish labor standards. If you decide to work illegally, it turns quite the opposite: you have no rights in relations with employers.
Illegal work, in addition to the neglect of the employer, is fraught with a number of other consequences:
Penalties.

In relation to both the employer and the employee. The former receives a $ 2,900 fine, the latter $ 290. If you do business in the country without a permit, prepare to pay $ 1160. And if you are harboring illegally working people without reporting them to the authorities, you will be fined $ 144. Moreover, all these amounts are for those who violated the law for the first time: repeated fines are 2-3 times higher. If you have been repeatedly noticed by authorities, you face deportation from the country for at least three years.

Job hunting.

Without a working visa and a guaranteed place of work, you will have many additional competitors on your new place: in addition to the Turks, there are many illegal immigrants from Romania, Moldova, Ukraine, Georgia, Uzbekistan. But the point is not only that it will be much more difficult for you to find a job - your salary will also be significantly lower than that of the officially working immigrants, and its size is not stable.
Official labour in the country is allowed from the age of 12, standard working day is 8 hours, and standard working week is 45 hours. These standards are controlled by regional labor departments, they allow employees to work overtime for   no more than three hours per day, but no more than 90 additional hours per year. The minimum duration of each paid vacation is 12 working days.
Obtaining a work permit and residence permit
Step 1. Work permit
There are three types of work permits in Turkey:
Issued to foreigners who apply for such a permit for the first time. The validity period is one year. It can be extended for three years, but the job position cannot be changed. After another three years, the permit can be prolonged again, and it is possible to change the employer, but not the profession.
Issued to foreigners who have either legally worked in the country for at least six years, or have lived in Turkey for at least eight years.
A permit that allows you to run your own business is available only to those who have lived in the country for at least five years and can prove that their business will be useful or  beneficial for  the economy of Turkey.
Individual citizens are issued a work permit without reference to the time limits and place of work. This includes refugees, EU citizens and their families, professional athletes, and spouses and children of Turkish citizens. But in the latter case, the child must enter the country before the age of  18  and graduate from a local school or university.
Where to Get a Work Permit
You can get a work permit directly in Turkey. But this is only suitable for foreigners who have obtained a residence permit in the country for the period of at least six months.
The second option is to get your permit at the Turkish consulate of your country, where you will need to submit a package of papers: the original document of the employment contract, a document confirming the signature of the head of the company, as well as copies of these documents. After the application has been accepted, you are assigned a number that must be reported to the employer. Within the next 10 days, the employer  should submit the following documents to the Turkish Ministry of Labor:
work permit application (completed and printed);
tax report of the company for the year;
an extract from the Trade Register, which indicates the amount of capital and the composition of shareholders;
a passport of a potential employee, as well as a diploma and a certificate, translated into Turkish and certified by a notary.
The term of consideration is 1-1.5 months. The decision is reported by phone or email.
Please note!

If you plan to live in Turkey permanently and wish to have unlimited access to the labor market (without obtaining work permits), you could think about applying for local citizenship. There is a state program in Turkey, allowing you to obtain а passport in 3 months. The requirement is to purchase  real estate in the amount of $250,000. Also, real estate owners of any value can obtain a residence permit. This type of residence permit does not give the right to work (the permit will have to be obtained separately). But after 5 years of residence in Turkey, it will be possible to apply for citizenship through naturalization.
Residential Property For Sale
S
tep 2. Working visa and residence permit
If everything is in order with the working permit, you need to re-apply to the Consulate of Turkey and provide the following papers:
A completed application form, which can be found on the website of the Consulate.
A copy and original  international passport with a valid period sufficient for the intended visa, as well as a certified translation into Turkish.
2 photos
An employment agreement  with a signature card and a statement from the employer asking to open a visa for the potential employee.
Diploma / certificate translated into Turkish and notarized.
Company certificate indicating the type of business activity.
Registration of all documents and obtaining a visa will cost about $200. After obtaining a working visa, you must enter the country within 180 days, after that you must obtain a residence permit within a month at the local police department.
Professions and Vacancies in Demand
If you look at the vacancies offered on job hunting sites, you can distinguish three categories  of professionals in demand in Turkey:
The mostly demanded are specialists in the service sector, tourism and in the field of construction.
Salaries in Turkey
By early 2020, the official minimum wage in Turkey has reached 2,234 Lira, and has increased by 15% per year (but taking into account the depreciation of the local currency, this is still less than $400). Meanwhile, keep in mind that salaries in large cities and in high qualification professions are higher.
Of course, these are not the highest figures in comparison with Europe. 
If you have a work permit and a working visa, your salary must be at least the official minimum. Fines are imposed on the employer for failure to comply with this condition.
The fixed average wage in Turkey is not officially established - it varies depending on the region and profession. The approximate amount before taxes and fees is $1,200 per month, and about $850 net of any taxes.
The most profitable industries are IT, information and communications, finance, healthcare, research, real estate and construction. The monthly income here is $1,500-2,500 and higher. Administrators and employees of the hotel and catering business earn the least - approximately $500-650 per month.
Average Salaries  in Turkey by Professions (before taxes):
Programmers - $2,000-2,500
Doctors - $1,600-2,000
Engineers - from $1,700
Teachers - $1,200-2,500
Welders - $1,300-1,500
Craftsmen, construction supervisors - up to $1,500
Managers with higher education - $800-1200
Electricians, installers, builders - $600-800
Sellers - $500-600
Animators, guides - $500-600
Babysitters, nurses - $500-700
Governess for a child (with special education, experience, knowledge of English and Turkish languages) - from $600-800
Office clerks - $400-600
Maintenance staff, waitresses - $400-500
In Istanbul and other large cities, they earn more. You can also count on a higher level of salary if you have a diploma of a Turkish or other prestigious European university.
Photos: pixabay.com