Turkey raises the price for citizenship, Bulgaria's market is popular again, Soviet buildings are too comfy to lose the price, Finland helps students. How? Read now.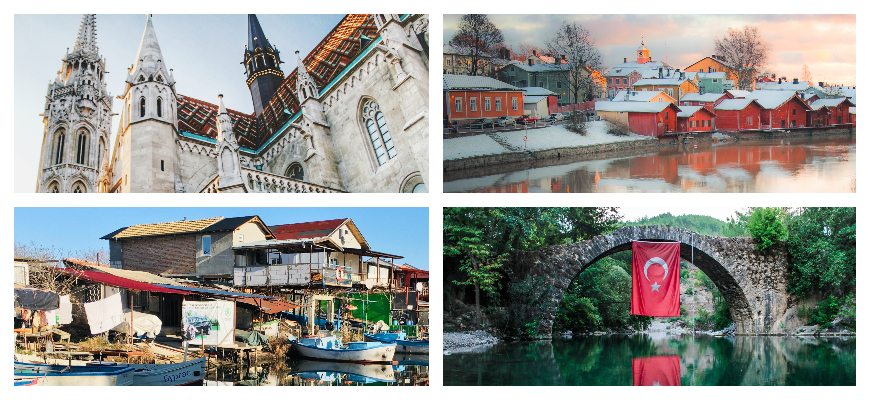 Turkish citizenship will rise in price to$ 400,000
On April 12, 2022, Turkish President Recep Tayyip Erdogan discussed the issue of increasing the value of the real estate that must be purchased to obtain citizenship in the country.1
The Cabinet of Ministers decided to increase the real estate price under the corresponding program from $250,000 to $400,000.
As part of this decision, it is envisaged to amend article 20 of the Regulation on the Application of the Law on Turkish Citizenship, which contains exclusive provisions concerning the acquisition of Turkish citizenship.
Where else you can get a passport for property purchase?
Prices for panel apartments have skyrocketed in Budapest
According to Duna House, the average cost per square meter of apartments in panel houses in Budapest increased by €260 in the first quarter of 2022, compared to the same period last year. The average price of an apartment in a panel house was €93,500, and the price per square meter was €1,750.2
Analysts at Duna House say that apartments in panel houses in the Hungarian capital have long been popular. First-time buyers are mainly attracted by a good location, a wide choice of space, and affordability.
The largest number of apartments in panel houses in the first quarter were sold in districts XI, XIII, XIV, and III, with Angyalföld being the most expensive district. The average price in District XIII was €113,250 compared to the cheapest District XVIII, where the price averaged €79,000.
Examples of real estate in Budapest
"Panic deals" lead to a price increase for secondary housing in Turkey
According to the chairman of Coldwell Banker Turkey Gökhan Taş, one of the reasons for the sharp rise in prices for secondary housing in Turkey is "panic deals".3
"Most people offer their housing on the market to buy another house or apartment. As the price of the housing they want to buy increases, they, in turn, ask for even higher prices for the property they are selling," the expert says.
People turn to real estate in conditions of high inflation to protect their savings, which creates additional demand for housing.
"They pay 5 million Turkish liras for a house that actually costs 3 million liras. At this moment, prices for other objects in this place are rising," explains Taş.
What can you buy in Turkey?
Bulgaria's housing market is approaching double-digit price growth
According to the National Statistical Institute (NSI), in the fourth quarter of 2021, housing prices in Bulgaria increased by 2.4% quarterly and by 9.4% year-on-year. At the same time, secondary housing has risen in price by 10% year–on-year, and new buildings - by 8.4%.4
The leader in the annual growth of housing prices in the fourth quarter of 2021 was Varna (+10.8%). New buildings in the sea capital of Bulgaria are becoming more expensive faster than old objects (+11.3% vs. +10.5%).
In Plovdiv, housing prices are also approaching annual double-digit growth, having increased by 9.5% at the end of last year. Here the trend is reversed – the secondary has risen in price by 13.2%, and new buildings – by 4.9%.
Sofia ranked third among the six largest cities in Bulgaria with a 9.1% year-on-year price increase. New housing in the capital has risen in price by 10%, and old – by 8.4%.
Housing prices have also risen sharply in Burgas. In the fourth quarter, housing prices rose by 9% year-on-year/, while, as in Plovdiv, old housing became more expensive faster than new buildings (+13% vs. +3.5%).
In Ruse and Stara Zagora, housing prices increased by 8.8% year-on-year, and in both cities, old houses became more expensive faster than new ones.
Properties for sale in Bulgaria
The Finnish authorities have adopted a law to help foreign students
The Ministry of Employment and Economy of Finland in its press release announced the adoption of a law improving the situation of foreign students. The amendments came into force on April 15.5
According to the amendments, students coming to Finland from other countries will receive a residence permit immediately for the entire period of study. In addition, the type of residence permit for students will be changed from B to A. This will speed up their obtaining a permanent residence permit and citizenship.
The job search process for Finnish diploma holders will also be significantly simplified. A residence permit based on a job search for a young specialist will be extended to two years.
Source: 1. Sabah, 2. Budapest Business Journal, 3. Hurriyet Daily News, 4. Investor.bg, 5. YLE